New Announcements!
WHAT'S NEW & WHAT'S COMING !
A listing of company news, new brands, products and services that are now available through Professional Percussion Products.
NEW ARRIVALS AT Professional Percussion Products
PROFESSIONAL PERCUSSION PRODUCTS announces availability of original DAVE HERBERT TIMPANI WARM-UP & PRACTICE PAD
Absent from the market place for almost a decade, we are proud to "re-introduce" the ORIGINAL Dave Herbert Timpani Pad that has become a staple of all professional timpanists. Completely hand made in the U.S. this pad uses the exact same pad material specified by Dave Herbert for his personal use timpani pad.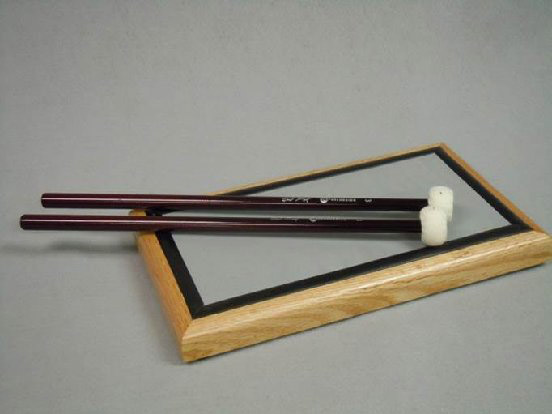 This original design eliminates all table-top bounce/vibration, providing an exact timpani head response. This pad includes skid-resistant feet on the bottom and provides for mounting on most lightweight cymbal stands. This essential product is exclusively in-stock for immediate shipment,
Introductory selling-price: $70.00

Check out David's Timpani Practice Pad Product Review on YouTube!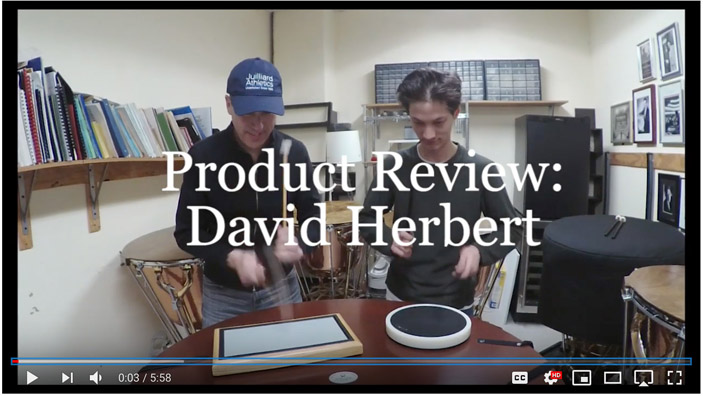 Professional Percussion Products is proud to announce and showcase the SUPERDRUM series of 12-Lug orchestral snare drums. Orchestral models featuring a player's shell-choice of 6-ply cross-laminated natural American Sugar Maple, One-piece cast Aluminum shell or One-piece Cast solid Brass shell. Maple model is also available in 9 or 10-ply shell configurations as a special order.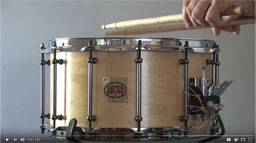 Check out a YouTube SUPERDRUM Demonstration!
Current Models and Introductory Prices, from the showroom -
SUPERDRUM
12 LUG ORCHESTRAL SNARE DRUMS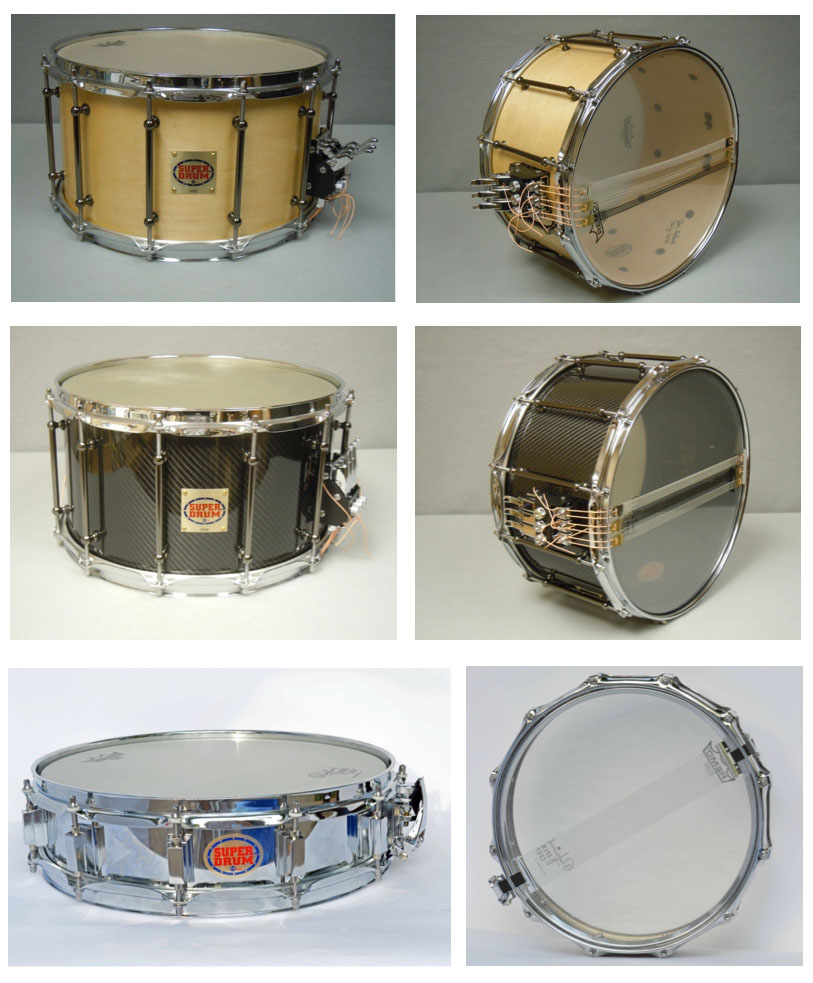 FEATURING: Three separate snare mechanisms allowing the player complete versatility and selection from any combination of 6-curly wire, 6 coated cable, and 6 bare cable snare units, as standard. Die Cast hoops available at extra charge.
6.5 x 14" Natural MAPLE, clear gloss finish: $655.00
6.5 x 14" Solid BRASS, clear coat sealant: $655.00
6 x 14" Solid ALUMINUM shell: $725.00
7.5 x 14" Natural MAPLE, matte finish, tubular lugs: $725.00
5.5 x 14" MAPLE shell, Mahogany Stain, tubular lugs: $650.00

NEW FOR 2018!
7.5 x 14" CARBON FIBER seamless shell, charcoal finish: $750.00
3 x 14" PICCOLO Chrome over Steel Shell: $300.00

Maple shell, standard triple snare mechanism
combination of 6-curly wire, 6 coated cable and 6 bare cable
Commentary and drumming by Superdrum Founder, Dave Bedrosian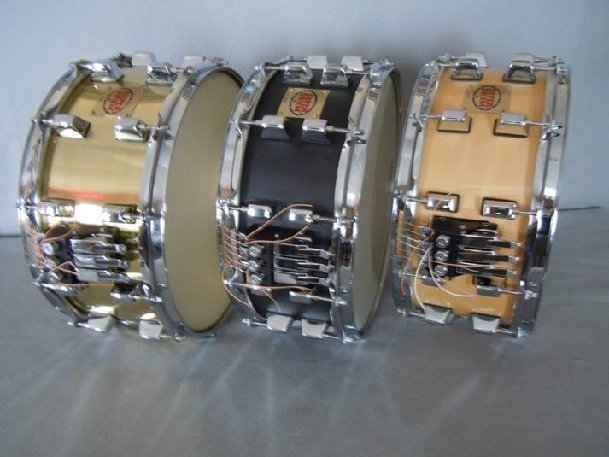 WHY 12 LUGS? Superdrum takes snare-drum-building tradition a step further by increasing the tension points and creating an unsurpassed accuracy and sensitivity with an extremely wide dynamic range. Clarity and definition of an orchestral snare sound which "speaks" in every concert hall setting, brings the snare voice to a new standard, and level of articulation.
Eliminate the need, cost and weight of die-cast hoops,.. the solution is in having twelve individual tension points that balances the head while securing the fine tuning adjustment at TWELVE tension points. Each lug has its own independent studded gasket, optimizing resonance of the shell and minimum lug-to-shell contact.
SUPERDRUM Orchestral Models all feature the Orchestral THREE separate snare mechanisms allowing the player complete versatility and selection from any combination of 6-curly wire, 6 coated cable and 6 bare cable snare units, as standard. The combination of sounds and immediate adjustment are endless.

Highly figured Natural Maple with high gloss lacquer finish feature precision bearing edge and snare bed, making this drum the "New Orchestral Standard" for orchestral wood-shell snare drums. Equipped with Remo Renaissance Diplomat batter and snare heads.
Introductory Showroom price, $655.00

Solid one-piece Brass Shell, combines the clarity and articulation of a metal shell - with resonance beyond compare. A new definition of a controllable LOUD snare drum with individual snare choice flexibility.
Introductory Showroom price, $655.00

Featuring a 5 mm thick aluminum shell, this drum weighs in at 13lbs. of shear orchestral energy and dynamic range. While the Audition Standard over the past five years has turned to aluminum shell drums. This 12-Lug SUPERDRUM replaces that definition with a sound and ease of tuning unlike any other drum on the market.
Introductory Showroom price, $755.00

About SUPERDRUM- The concept of a twelve lug snare drum has been around for over three decades, but never available as a U.S. manufactured specialty drum with the design focus on sound and performance. Superdrum has developed a select following for drumset snare drums, offering a wide spectrum of sizes and shell materials and snare mechanisms. Now, Professional Percussion Products brings the orchestral snare drum models to the attention and demand of those orchestral professionals seeking a better snare drum at a more affordable price.
About Superdrum Founder, Dave "Bedrock" Bedrosian- Professional drummer, teacher, author and drum designer, Dave Bedrosian is an active recognized professional in Los Angeles maintaining and active performance and teaching schedule. Highly influenced by his prominent teachers like Alan Dawson and orchestral percussionists George Goneconto, Dave brings that performance passion to each of his students and is the foundation for the DRUM DISCIPLINE educational DVD series, published by Hal Leonard. A sought-after clinician, his appearances throughout Southern California are highly publicized and attended events in collaboration with his endorsement of Xcel Drum Sticks. Visit his website at www.americandrumschool.com.
LATEST ADDITIONS TO THE SHOWROOM GALLERY
These newest instruments and accessories now await your appointment and visit to the showroom to test, play, compare and experience the latest in orchestral percussion equipment.
NEWEST RON VAUGHN PERCUSSION instruments on display
The original Signature Ron Vaughn single-slot solid body Woodblocks have become the orchestral percussion section standard. Clarity of tone, pitch and enhanced resonance of every block size make these a must for any section. Select one or two blocks or an entire family creating an array of sound. All sizes of Ron Vaughn Woodblocks are IN-STOCK!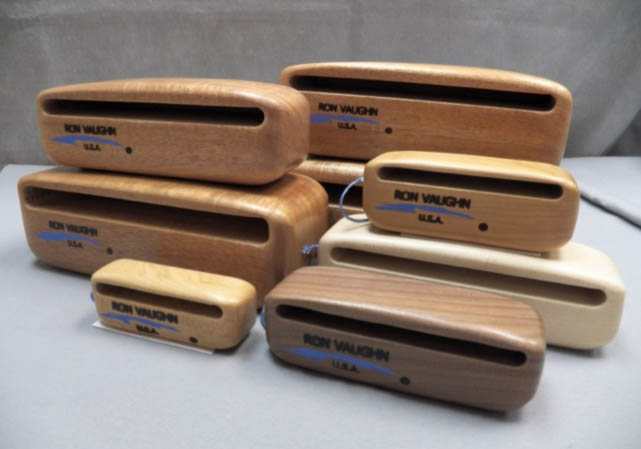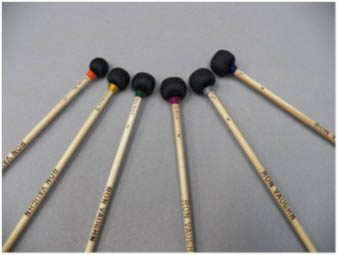 Ron Vaughn HIGH DENSITY Woodblock and Cymbal Mallets
We have selected the most popular 13" Birch handle models, offering the largest pallet of tone colors:
#1 Orange, Piccolo Blocks
#1.5 Gold, Small Blocks
#2 Green, Medium Blocks
#3 Plum, Large Blocks
#4 Gray, Cymbal Mallets
#5 Royal Blue Cymbal, 15.5" handles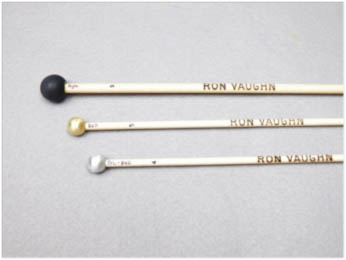 Ron Vaughn PETITE MALLETS, provide the perfect solution for those delicate Glock, Xylo and Triangle parts. Provides articulation with feather-weight speed across the keyboard. Birch handles
#9 3/4" Black plastic XYLO, with brass core
#5 1/2" Brass, Medium, BELL
#4 1/2" Aluminum, TRIANGLE/BELL
NEW IMPORTED ORCHESTRAL SNARE DRUM STICKS,
from the Netherlands
A completely new approach to making orchestral snare drum sticks, manufactured in Amsterdam in The Netherlands, new shapes, woods, feel and control make these unique sticks a NEW "favorite" from all the other models available.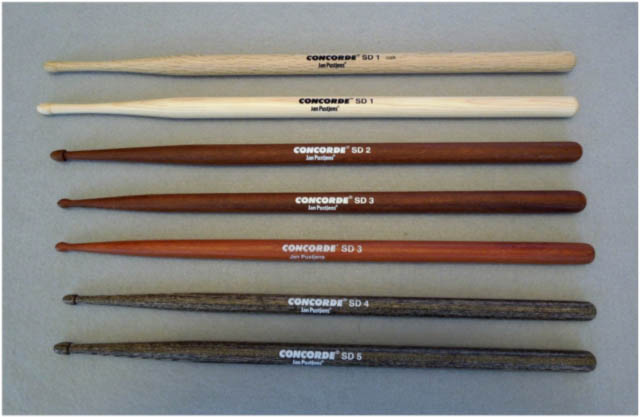 SD-1 Concorde American Oak, 16 1/4" length, Diameter: 5/8", Oval Bead: 3/8" $25.00/pair
SD-1 Concorde American Hickory, 16 1/4" length, Diameter: 5/8", Oval Bead: 3/8" $30.00/pair
SD-2 Concorde Asian Pau Rosa , 15 1/2" length, Diameter: 5/8", Point Bead: 3/8" $34.00/pair
SD-3 Concorde Asian Pau Rosa , 15 3/8" length, Diameter: 5/8", Oval Bead: 1/2" $34.00/pair
SD-3RS Concorde Rosewood, 15 1/4" length, Diameter: 5/8", Oval Bead: 3/8" $45.00/pair
SD-4 Concorde Australian Sandal Wood , 15" length, Dia. 9/16", Point Bead: 3/8" $45.00/pair
SD-5 Concorde Australian Sandal Wood, 15" length, Dia. 1/2", Reg. Bead: 3/8" $34.00/pair
All models are natural wood finish without any lacquer coating.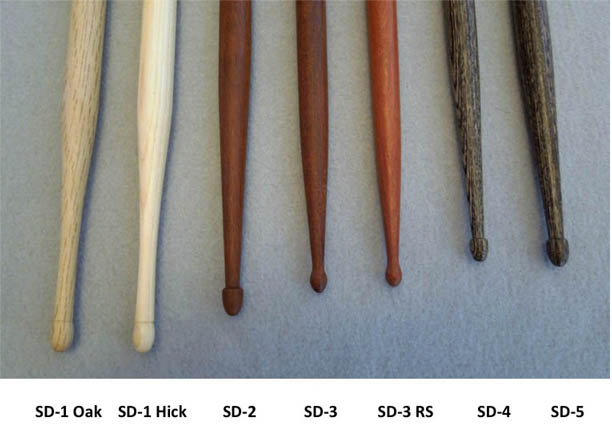 INTRODUCING; GROVER PRO PERCUSSION
G-3 SYMPHONIC SNARE DRUM
The ultimate snare drum for orchestral percussion featuring the new Triple Strainer Snare mechanism with individual fine tuning adjustments. There are no limits to the volume or sensitivity of these drums. Ten ply-maple cross laminated shell.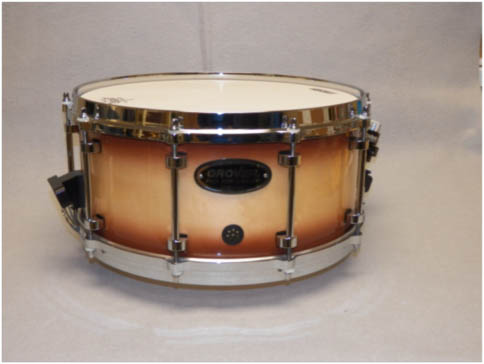 IN-STOCK and immediately available, the Custom Natural Brown Burst, high-gloss finish.
INTRODUCTORY price, $800.00
(one drum only)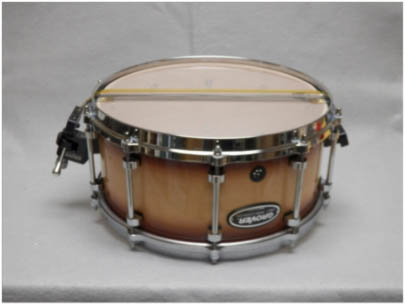 GROVER G-3 Symphonic snare drums include FOUR different snare materials and combinations.
- Combo; coated steel silver cable with coated black cable
- Carbon steel spiral silver
- Heavy gauge coated Yellow cable

JUST ARRIVED, ALAN ABEL TRIANGLES
THE most sought-after orchestral triangles, offering perfection in tonal character and clarity. Conductors "love" the sound and brilliance of these triangles.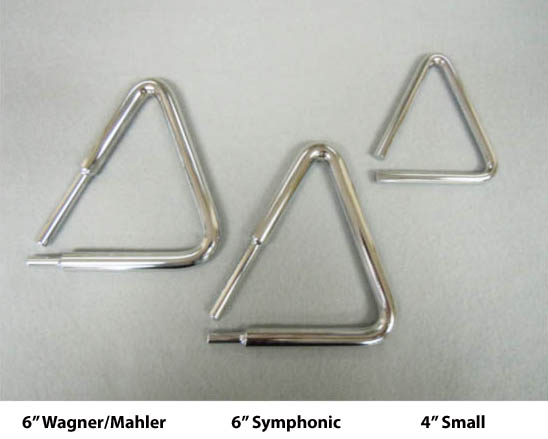 Sound Selection Guide:
6" Wagner/Mahler: Similar to the lighter Symphonic model, but heavier, producing a big and ringing tone at fortississimo.
6" Symphonic: Designed and engineered to duplicate the knitting mill spindle triangle, machine lathed, carefully shaped and heat treated,chromium plated.
4" Small: Similar manufacturing process, ideal for thinly orchestrated passages and delicate parts requiring extreme clarity.
STOESSEL TRIANGLE BEATERS
A recognized necessity for any professional triangle part, regardless of triangle size, brand or playing technique. Building a collection of beaters assures your immediate ability to adjust the tonal character and volume of the triangle.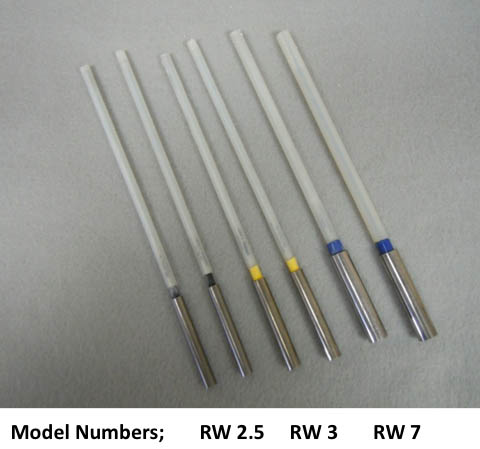 Professional Percussion Products stocks the most in-demand models:
Richard Weiner Tubular Style features latex handles, measures 9" long.
RW2.5 5/16", black-lite
RW3 3/8", yellow-heavy
RW7 1/2", blue, heavy

Sold individually, not as a pair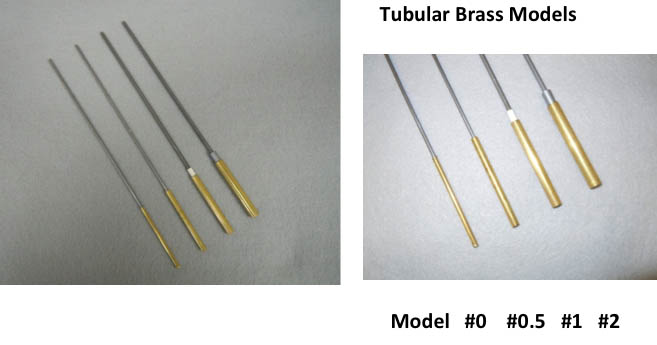 The original BRASS Stoessel Triangle tubular style beaters that created the sound and demand. The Most popular models are all in-stock. (sold individually)
Model #0: 1/8" dia. Brass, 9" length, clear-color band, delicate/light
Model #0.5: 3/16" dia. Brass, 9" length,clear color-band,delicate/light
Model # 1: 1/4" dia. Brass, 9" length, white color-band, light
Model #2: 5/16th" dia. Brass, 9" length, grey color band, light
NEW TIMPANI EDUCATIONAL "MUST HAVE" MATERIALS
IN-STOCK and Immediately Available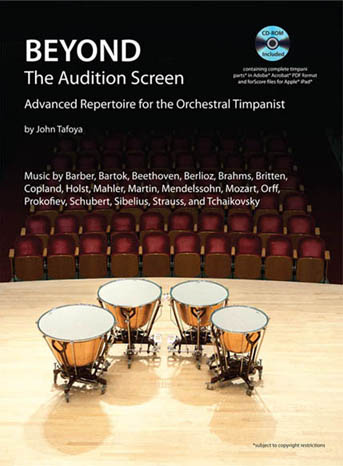 BEYOND The Audition Screen by JOHN TAFOYA features 27 orchestral works currently requested at timpani auditions. The included CD-ROM contains the entire Timpani parts in PDF format for further study along with the annotated for Score files for the Apple I-Pad.
Each page includes important items to consider in preparing each orchestral work. These observations are taken from the Author's direct personal experience with orchestral timpani auditions, founded on his professional insights and performances with internationally known conductors.
Anyone preparing for an audition will gather tremendous insights on what to expect, what to prepare for along with technical performance options including dynamics, stickings, timpani mallet recommendations, tempos, and even timpani maintenance contributed by Marshall E. Light of the American Drum Manufacturing Company.
SELLING PRICE, $24.95 plus shipping.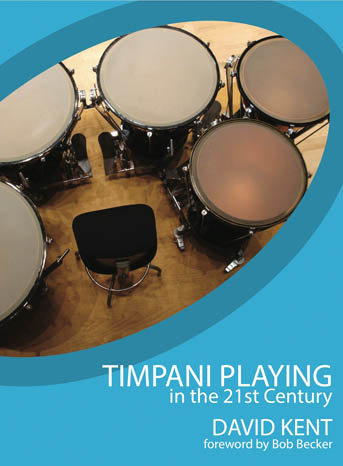 TIMPANI PLAYING in the 21st CENTURY, by David Kent - Is much more than a "traditional method book". It is a treatise on timpani style, temperament and preparation for life in an orchestra.
Author David Kent has been Principal Timpanist and Orchestra Personnel Manager of the Toronto Symphony Orchestra since 1981. This unique book includes close to 100 annotated excerpts and a comprehensive range of contemporary timpani performance practice issues. The result of his direct comments and recommendations results in an entertaining and informative journey in the world of Music Making, from the Timpanist's position.
IN-STOCK and immediately available
SELLING PRICE, $40.00
NEW MEINL ARTISAN TAMBOURINES
The Meinl Artisan Headed Wood Two-Row Tambourines with all-Maple Frame offers an airy and punctuated attack with a medium sustain. Artisan frames are precision made from pure maple wood in a stable 9-ply construction. The hand grip is comfortable and secure.
The brass jingles are warm in sound and big in resonance. The cymbal bronze jingles are bigger in diameter which gives them a full and rich sound that is lower in pitch than brass with a vintage timbre.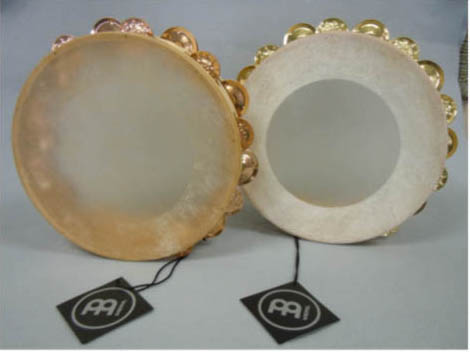 Both models provide clarity and definition found only in far more expensive orchestral tambourines.
Left: 10" double row BRONZE jingles, $135.00
Right; 10" double row BRASS jingles, $125.00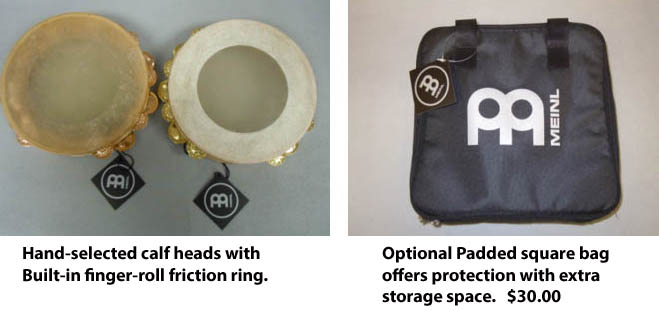 Both models feature:

NEW Total unique tambourine sounds

9-ply Maple shell-frame, Solid brass or bronze jingles

Ergonomic comfort-hand grip, two different profile jingles

Detailed with ornamental hot-branded Meinl logo



KORI 3 OCTAVE TABLE-TOP ROSEWOOD-LITE XYLOPHONE
Provides a perfect solution to a portable xylophone with wood-sounding resonance and clarity.
Instrument can be easily transported for use in schools, pit orchestras, lesson studios and at-home practice. Bar width is standard 1 1/4" making for easy transition to other instruments.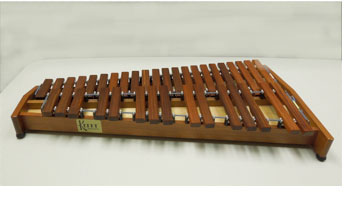 Complete Table Top Xylophone: $495.00 plus freight.
INTRODUCING -the NEW Expanded line of KAUFMANN AUSTRIAN TIMPANI STICKS, Exclusively distributed in the United States by Professional Percussion Products.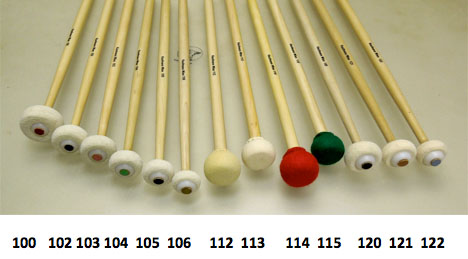 Thirteen distinctive models share a common beautifully finished hickory shaft, providing distinctive sound clarity without the usual head impact "click" sounds.
Consisting of six layered flannel, three flannel over cork cores and three solid hard felt core models.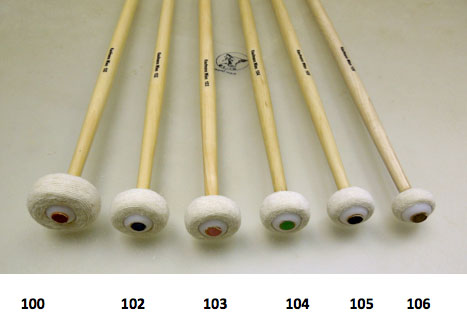 Tightly compressed Layered Flannel provides a totally unique sound, bringing out the characteristics of the drum with little of no stick impact sound.
Full sounding rolls to extreme articulate definition not found in any other stick construction.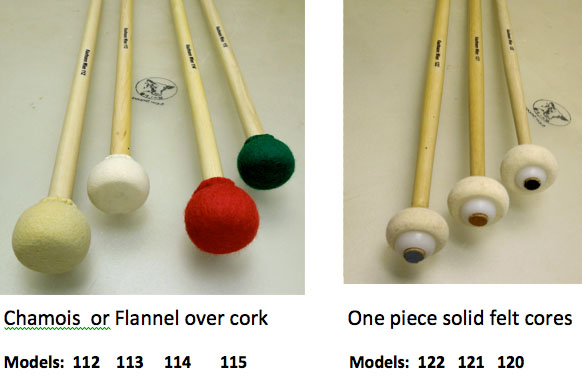 Introducing TORNADO CHIME MALLETS, by Massimo Mallets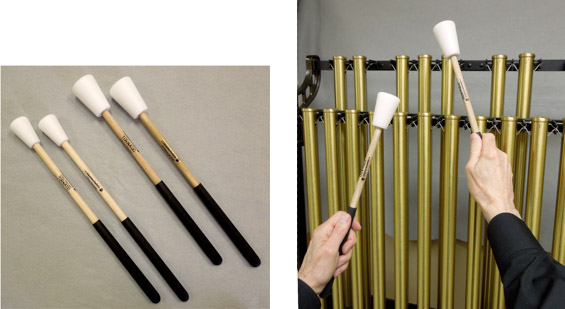 Finally, a 360 degree shaped mallet head playing surface that eliminates all concerns about hammer heads alignment for striking the chime tube caps. The 15 1/2 inch hard hickory handles with sure-grip sleeves allows for a comfortable playing distance on all makes and sizes of chimes.
Available in two sizes; Large 1 3/4" diameter Chime Mallets or Small 1 3/8" diameter inch Multi-Purpose Mallets
Designed and manufactured in U.S.A. by Brian Massimo.
YOUR TIMPANI HEAD SELECTION HEADQUARTERS
Professional Percussion Products is fast becoming the resource of choice for selecting and purchasing orchestral timpani heads for orchestras, conservatories, individual players, colleges, universities and high schools. Working with both EVANS and REMO factories, we have developed a relationship that assures all of our customers the very finest selection of timpani heads available in the market.

All timpani heads arrive at Professional Percussion Products for unpacking, inspection and re-packing BEFORE shipping to our customers. If the timpani head is not perfect when it arrives here, we will NOT ship it to our customer. Its our added quality control that goes into each timpani head order.

Need information in sizes, sound selection characteristics, tuning and installation? - we provide that as a service to all our customers. Plus all the different types of heads are on DISPLAY in our timpani soundroom.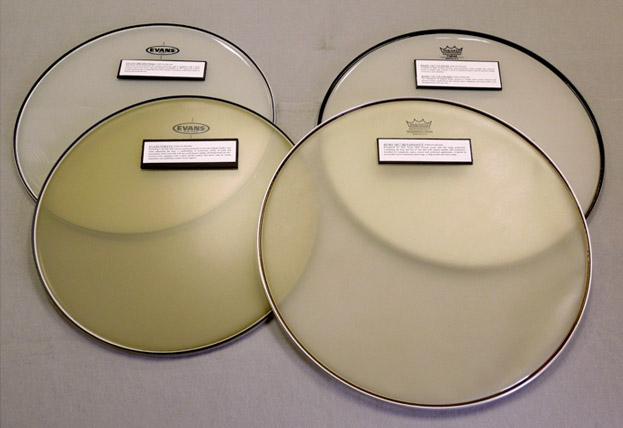 Featuring an assortment of Evans Orchestral and Strata heads, and Remo RC Renaissance and TI, TC, Hazy and Clear Heads
YOUR ORCHESTRAL SNARE DRUM HEAD SELECTION HEADQUARTERS
With all the different styles and types of orchestral snare drum heads that are available, we stock, sell and ship ALL OF THEM. There is never a question of having this available for immediate shipment, we specialize in heads for the orchestral player and the vast array of different heads that you want to equip your orchestral snare drum with.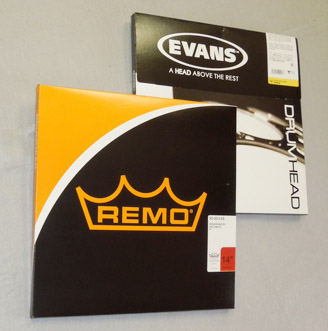 REMO:
14" Renaissance 7.5 mil Diplomat
RD-0014-SS
14" Fiberskin-3 thin Diplomat
FD-0514-00
14" Diplomat 7.5 Coated
BD-0114-00
14" SNARE/BOTTOM Diplomat
SD-0114-00 Hazy

EVANS:
14" Orchestral-Staccato-Coated
B-14-GCSS
14" Orchestral-Coated
B-14-GCS
14" Strata 700 Coated
CS-14-S
14" Strata-Staccato-700
CS-14-SS
SUPER KALFO ORCHESTRAL SNARE DRUM CALF HEADS and LASER CUT STEEL FLESH HOOPS - now available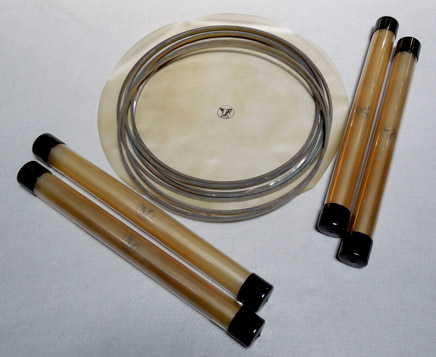 By customer demand, we continue to expand our offering of Irish Calf Snare Drum Batter Heads, specifically selected for the orchestral performer wanting the authentic snare drum sound, only calf skin can provide.
We stock the 18 inch diameter skins with a standard of 24-25/100th thickness, perfect for articulation and yet strong enough to handle the fortissimo playing requirements.
Our seamless Laser Cut Steel Flesh Hoops in 13.5 14.5 and 15.5 inch diameters makes mounting your Super Kalfo Irish Calf Skin Head easy. Laser cut hoops assure perfectly flat and round flesh hoop for your drum.
CONCERT BASS DRUM BEATER DISPLAY PROVIDES A SOLUTION FOR EVERY SOUND & NEED
We have assembled an assortment of the most in-demand TOM GAUGER, GROVER PRO, JG PERCUSSION and BALTER Concert Bass Drum Beaters. Now YOU have the opportunity to test-play all the various sizes, shapes, sounds and special affects on a Concert Bass Drum. Your selection possibilities are endless. Every serious player develops an arsenal of Concert Bass Drum Beaters - for "just the right sound".

PETER KOGAN TIMPANI STICKS BY MB MALLETS - NOW FEATURED IN OUR TIMPANI SOUNDROOM
Three distinctive Series provides and array of sounds and uses: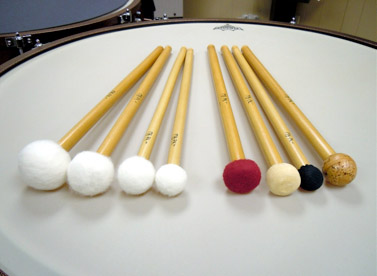 MB Peter Kogan Series:
High quality Bamboo-single node at shaft bottom
5/8" diameter 15.5" long
Unique cores and underlays
Ball Coverings in leather, German and American Felts
No. 1 Wood Core, Leather Covering
No. 2 Wood Core, Leather Covering
No. 3 Wood Core, Red Felt Covering
No. 4 Wood Core, Hybrid Covering
No. 5 Wood Core, German
No. 6 Cork . . . $65.00
MB Peter Kogan MINI-CORE Specialty Sticks
High quality bamboo-single node at shaft bottom
9/16" diameter 15.5" long
Mini-Cork Cores
Ball coverings are: #7-synthetic, #8 hard felt, #9 double German felt
No. 7 Ultra Staccato
No. 8 Staccato
No. 9 Mini Legato
MB Peter Kogan Baroque/Classical Sticks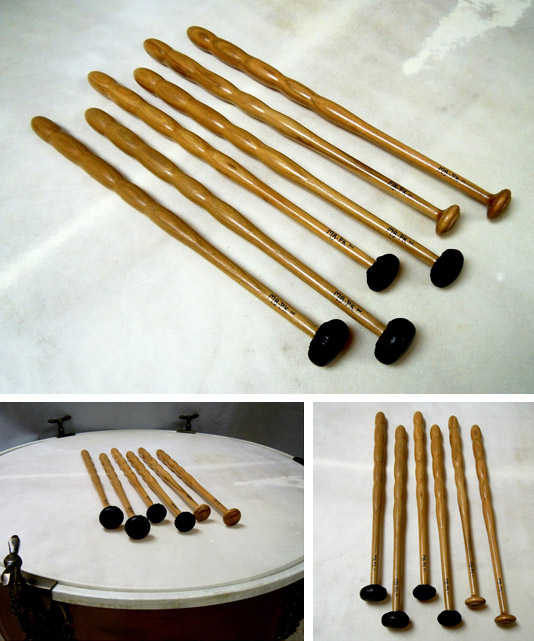 Baroque-era recreation
One-piece yellow hickory shaft
No. 1 Wood
No. 2 Hard Leather
No. 3 Soft Leather
Professional Percussion Products is starting to STOCK & SELL three select instruction books in the showroom: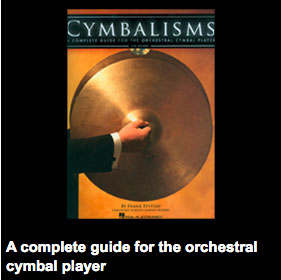 Cymbalisms by Frank Epstein
A complete guide for the orchestral cymbal player, Cymbalisms was authored by Frank Epstein. This book shares a host of musical and magical moments in his experience as a member of the Boston Symphony Orchestra. This book/2-CD package discusses the concepts of sound, musicianship, precision, articulation, color, balance, and response in orchestral cymbal playing as it relates to some of the greatest works in the orchestral repertoire. Cymbal players will gain valuable insight on developing a good sound through the many personally developed and formulated strokes contained within. The accompanying CDs feature over 100 excerpts from orchestral literature (performed by the Boston Symphony Orchestra) to help demonstrate the vast array of cymbal techniques and artistry required in the music from the greatest composers of the orchestral repertoire.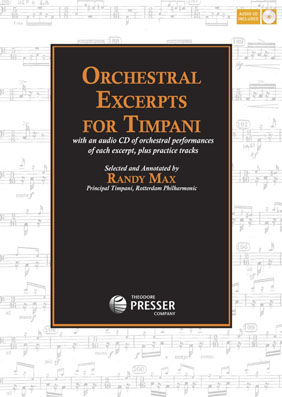 Orchestral Excerpts for Timpani by Randy Max
Two of the most time consuming aspects of preparing for an audition are to collect all of the parts together, and to get a good recording of each piece. For many years it has been my dream to put together a collection of parts to the standard timpani audition repertoire, complete with the finest recordings ever made of them.
Randy Max's book: "Orchestral Excerpts for Timpani, with an audio CD of orchestral performances of each excerpt, plus practice tracks" you will find just that (and much more); authentic parts to 57 of the most requested audition excerpts and 78 tracks of classic audio. The CD begins with the impeccable St. Louis Symphony recording of the excerpt from Barber's Medea, and concludes 77 tracks later with a dramatic performance of the excerpt passage from Siegfried's Funeral March from Wagner's Gotterdammerung, played by the Berlin Philharmonic and von Karajan.
"Orchestral Excerpts for Timpani is a spectacular book! Wonderfully annotated and researched with many helpful suggestions both musical and technical. It should be in every timpanist's library. I think it may become a classic..!"
- Stanley Leonard, Principal Timpani, Pittsburgh Symphony (retired)
"I have heard the statement "too much knowledge is dangerous"; however when it comes to preparing for an audition, the more knowledge you have the more prepared you are. Randy Max has written a book that gives you not only the music but information about the variations of tempi one can expect for the excerpt, historical facts about the music, BIOs of the composers and suggestions for practicing, tuning and sticking for both American and German style timpani playing. All this and a CD that accompanies the book so the excerpts can be heard and practiced. Orchestral Excerpts for Timpani is a "must have" book for the serious timpanist preparing for an audition. The 57 passages represent the most requested audition excerpts and are done in a well organized, informative and easy to read manner. Highly recommended."
- John H. Beck,
Professor Emeritus of Percussion, Eastman School of Music, Principal Timpani, Rochester Philharmonic (retired)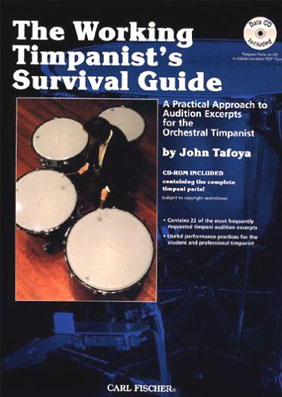 The Working Timpanist's Survival Guide, A Practical Approach to Audition Excerpts for the Orchestral Timpanist by John Tafoya
This invaluable resource contains carefully illustrated excerpts, insightful photos, and a CD-ROM with timpani parts included. Each excerpt is explained with meticulous care.
For the timpanist who might be learning orchestral repertoire for the first time, or revisiting it, the 'recommended recordings' list is also very helpful. The professional timpanist will also enjoy the variety of musical and technical options presented in this book. Options include: edited dynamics for balance considerations, changes in drum arrangement, stickings, illustrations, and other items of interest. The repertoire in this volume is the most commonly requested music at auditions today.
"If you are serious about becoming a timpanist in a symphony orchestra, The Working Timpanist's Survival Guide is a must. John Tafoya has written a comprehensive book with all the information you need to know. Study it . . . practice it . . . and you are on your way to success."
-John H. Beck, Professor of Percussion, Eastman School of Music
Retired Timpanist, Rochester Philharmonic Orchestra
"This long overdue text is aimed at developing and maintaining a more artistic approach to playing timpani. The context and dialogue are very purposeful and insightful. Very well done!"
-Mike Crusoe, Principal Timpanist, Seattle Symphony Orchestra
"John Tafoya, Principal Timpanist in the National Symphony Orchestra, has the expertise to give this publication highest credibility. This one publication more than fills the needs of students and professionals who have been trying to pull together an organized study of timpani repertoire from a variety of different sources."
- F. Michael Combs, Percussive Notes Magazine (October 2004 issue)

Super Kalfo Imported Irish Calf heads now available through
Professional Percussion Products.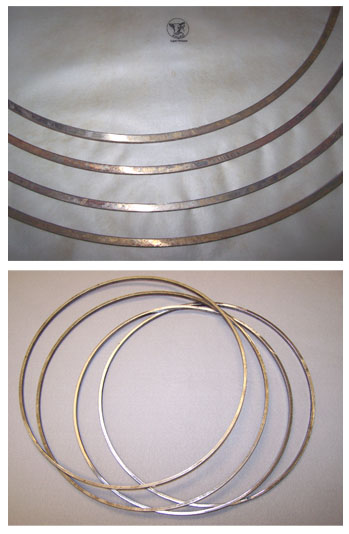 We are pleased to announce our stocking and selling imported Super Kalfo Irish Calf Heads. For the past five years we have been developing this highly specialized part of the orchestral percussion showroom's business. Our desire to professionally assist the top timpanist and orchestras around the world in acquiring top quality calf heads has grown tremendously with the increasingly demand and popularity for calf heads. We now provide turn-key service, removing the customer's inconvenience with the complicated import, duty, taxes and currency exchange issues.

Super Kalfo heads have become the standard of the world for timpani, concert bass drum and snare drum batter heads. Considered the oldest manufacturer of skin heads in Europe, the firm's name as Vellum and Parchment Works LTD is considered the finest professional source for quality skin heads, made to each individual player's specifications and preferences.

Manufactured in Celbridge, Kildare Ireland, Professional Percussion Products now receives monthly shipments from the company to handle increasing demands for authentic Calf Heads ordered by discriminating percussionists and orchestras.

Custom Made Timpani, Bass Drum, Snare Drum all-steel, rolled and welded FLESH HOOPS.

Cleveland manufactured steel flesh hoops that are guaranteed to be perfectly round, flat and consistent for mounting calf heads. These are hand-made to your specifications based upon the needs and application of the flesh hoop for your calf head mounting purpose.





INNOVATIVE PERCUSSION now IN-STOCK and available

By popular demand we have added a very wide assortment of Innovative Percussion Mallets and products to the showroom stocking inventory. In working with many college and university mallet, stick and bag requirement lists, we have found more and more Innovative Percussion items appearing on these student lists.
Call us for the models you need and we can get these shipped to you immediately.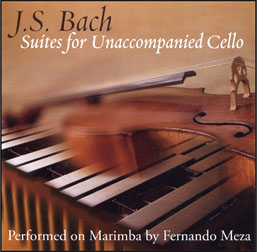 NEW CD by FERNANDO MEZA
Fernando Meza (Director of Percussion Studies, University of Minnesota) has released a beautiful new marimba CD: J.S. Bach's Unaccompanied Suites for Cello in which he performs 3 of the 6 Cello Suites (No.1 in G Major, No.3 in C Major, and No.4 in Eb Major) on a 5-octave marimba. A major accomplishment for any marimba performer, but even more so for someone who is particularly busy as an all-around percussionist.
Fernando recorded the Suites in 3 straight days (one Suite per day) and looks back to the entire process as an unbelievable time of musical growth. Meza comments, "Learning to deal with the amazing challenges of performing the music of Bach on the marimba and making it work on that instrument is a process that I encourage any percussionist to take in order to become a better musician. There is a sense of communion in the study of this music that deeply challenges you to analyze, think, and reconsider your approach to every aspect of your musical self, from your technical understanding to your ability to breathe and turn a phrase. It is an amazing experience that makes you shed your old musical skin and grow a new one with a better understanding of yourself as a deeper musician."
This new release is now in-stock and available for immediate shipment. This beautiful collection is a must-have for anyone studying and playing marimba. Contact us for ordering information.
---
IMPORTED TIMPANI STICK FELT NOW AVAILABLE
We are now stocking sheets of both AMERICAN and GERMAN Timpani Stick Felt for use in stick recovering or stick building purposes. Sold in 2' x 2' sheets, this is perfect for a multitude of applications.

The German Felt (soft) is exactly the same material used in the production of our own OHIO TIMPANI STICKS; both Bamboo Roller Ball and Turned Handle Cartwheel models.

Many Cleveland area students and players have been purchasing this through the showroom for almost four years. Professional Percussion Products now has the inventory available to ship these highest-quality materials throughout the world.

Contact us to place your order, ... or have your questions answered.







For Factory-Direct Ordering Visit our Showroom or Contact us to Schedule an Appointment

Telephone: 440-877-9674
Fax: 440-877-9675
Email: kbdustman@aol.com