DEMO Deals and Specials!
TO: SELECT CUSTOMERS AND FRIENDS OF Professional Percussion Products
YOUR VIBRAPHONE HEADQUARTERS!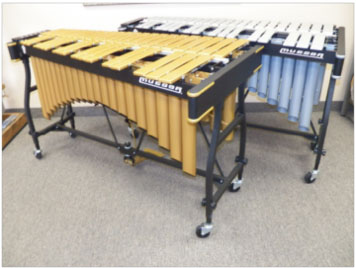 Professional Percussion Products has become the leading resource to professional players, teachers, schools and studios for having a variety of MUSSER VIBRAPHONES in-stock and ready for your test-playing experience in the by-appointment showroom. New instruments, demonstrators or used trade-ins - inventory is constantly changing as we ship instruments all over the world.

And, as a stocking Beiner Bags resource, we have padded custom made Vibraphone cases for all Musser instruments on hand, and can easily order case sets for all other brands of vibraphones.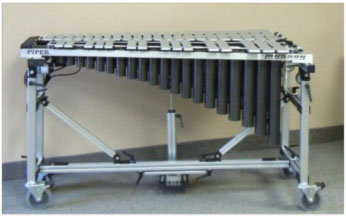 Whether you're looking for a Musser PRO VIBE in gold or silver finish, or the PIPER VIBE - we have immediate access to all models. Our knowledge of the product, care, transportation and set-up, helps every Vibe Gallery visitor make a knowledgeable decision in selecting the perfect instrument for your needs and investment.
The orchestral percussion showroom-gallery has a complete display of the most popular Vibe Mallets from, Firth, Balter, Malletech, Musser Good Vibe, Innovation and Encore brands.
PERMANENTLY PROTECT YOUR NEW VIBE
NOW AVAILABLE FOR YOUR MUSSER M-55 VIBE
BEINER M55 VIBE GIG BAG CASES
$775.00 for complete set plus shipping.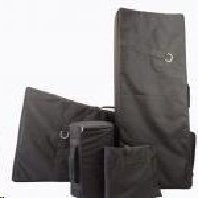 Cases set includes:
Frame Case
Resonator Pair Case with high impact foam insert
Keyboard-Bar Case with rip stop nylon sleeping bag keyboard blankets
Foot Pedal/Cross Bar Case
Includes shoulder straps for frame and resonator cases (all made in USA)
CONTACT Professional Percussion Products to reserve your instrument and to schedule your appointment to test-play this instrument. in our orchestral percussion showroom-gallery.
tele-fax: 440-877-9674 E-Mail: kbdustman@aol.com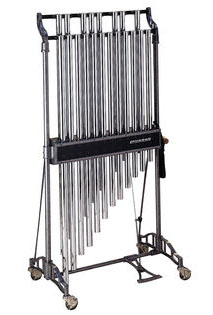 ANOTHER MUSSER
M-661-C SYMPHONIC CHIMES DEMO INSTRUMENT
at special pricing!
Professional Percussion Products has just received notice of another special set of Musser Symphonic Chimes that have become available at a one-time-only pricing.

This professional top-of-the-line instrument has all the features and player requirements found on performance instruments in the finest concert halls. One and a half octaves of brilliant full-size chrome plated 1 1/2" diameter tubes, makes this a spectacular instrument for concert hall, conservatory, church or recording studio. This instrument provides optimum volume, projection and pitch clarity along with frame-stability and portability of the instrument.

Suggested List Price: $9,766.00
DEMO PRICE (One instrument only): $4780.00
plus freight.


Includes Musser factory new instrument warrantee and standard rawhide mallet.

ATTACHMENT: Musser Symphonic Chime catalog-specifications page

Please contact Professional Percussion Products at 440-877-9674
to reserve this instrument, now available at special savings.

Professional Percussion Products:
Tele-fax: 440-877-9674,
E-Mail: kbdustman@aol.com
www.professionalpercussionproducts.com







For Factory-Direct Ordering Visit our Showroom or Contact us to Schedule an Appointment

Telephone: 440-877-9674
Fax: 440-877-9675
Email: kbdustman@aol.com