KALFO Imported Irish
Calf Skin Heads
Manfred Kaufmann
Timpani Sticks
Tim Adams
Educational Materials
Meinl Symphonic Cymbals
& Gongs
Equilibrium
Percussion Products
Mark Yancich Educational
Videos and Products
Jack Bell
Educational Materials
Professional Percussion Products
P.O. Box 33252
Cleveland, Ohio 44133
Tel: 440-877-9674
Fax: 440-877-9675
Email: kbdustman@aol.com

Updated: 9/23/18

MARKUS RHOTEN TIMPANI STICKS, by Malletech®
JUST ARRIVED - Seven distinct models of bamboo timpani sticks design by Markus Rhoten, Principal Timpanist of the New York Philharmonic Orchestra. Exacting specifications bringing European timpani traditions to the American market. Construction includes a variety of core materials and varying degrees of up to five felt layers, providing exceptional player nuances not found in quality timpani sticks.

MALLETECH® PhD ROSEWOOD CONCERT SNARE DRUM STICKS
(Premium high-Density)
Three specific different models designed by three of the world's top percussionists, Bob Becker, Michael Burritt and Tony Cirone.
Premium high-density Rosewood, perfectly matched-by hand, beautifully finished creating an immediate difference in feel and sound serious players have not experienced for decades.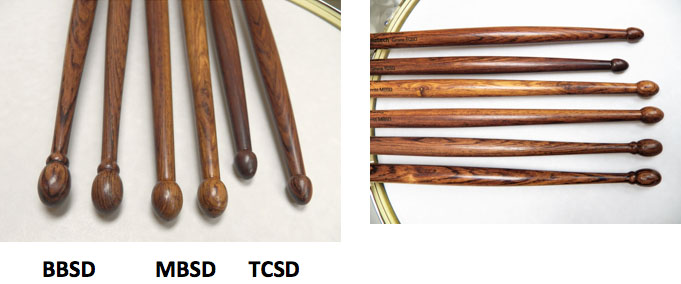 BBSD Bob Becker: Detailed tip, ornate shoulder, long taper and great rebound 17 3/16" length 0.645 dia.
MBSD Michael Burritt: Bulbous tip, extra-long taper with "fat sound" 16 15/16" length 0.660 dia.
TCSD Tony Cirone: Bullet tip, fast taper, counter-bored butt, special feel balance. 16 1/2" length 0.63 dia.
This page is currently under construction. BE SURE to check back for new and updated information on MALLETECH Products!
For Factory-Direct Ordering Visit our Showroom or Contact us to Schedule an Appointment
Telephone: 440-877-9674
Fax: 440-877-9675
Email: kbdustman@aol.com