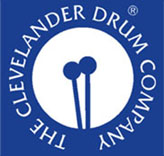 Clevelander Snare Drums
... only from Clevelander can you have the quality
that professionals expect.
CLEVELANDER DRUMS ANNOUNCES NEW
PROFESSIONAL-PLUS SERIES SNARE DRUMS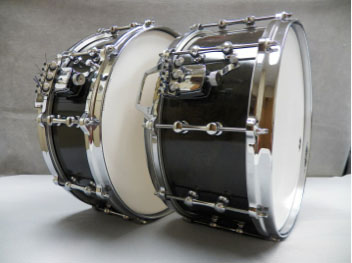 An orchestral snare drum providing tremendous technical and acoustical advancements from the original Clevelander Snare Drum design beginning in the 1990's.
Available in both 5 X 14" and 6 1/2 X 14" models. The new Triple Snare throw-off mechanism provides three separate individual snare unit adjustments.
All Birch shell, die-cast hoops and one-piece tubular lugs are all standard features. Your choice of the stunning transparent Black Lacquer Stain or Clear Lacquer Natural finish highlights the highly figured Birch-shell grain, adding to the formal presence of the drum in any percussion section.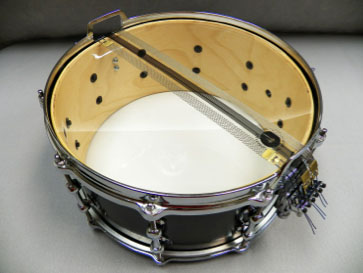 Both models include FOUR different snare unit materials. With three independent snare tension adjustment knobs functioning in tandem with one central on-off lever, the player is constantly in control of sound.
Snare-type units include:
Carbon Steel Spiral Snares
Coated Steel Cable (black)
Bare Steel Cable
Heavy Coated Cable (gold)
The sound capabilities of this new series allows for a complete spectrum of response and articulation at all volume levels.

Natural Clear Lacquer Finish with close-up views of dual adjustments on both Snare and Butt mechanisms.
These drums are now on display and available for your individual testing and selection experience of the NEW Clevelander Pro PLUS Series.

The Clevelander Drum Company utilizes the experience, creativity and knowledge of today's leading performers in the design and fabrication of professional instruments.
Clevelander Professional Snare Drums have become the instrument of choice for professionals world-wide because they produce the right sound, performance after performance. Rock, orchestral, jazz, concert band, alternative ... you'll always get the snare drum sound you need for the music you perform. Every instrument has been designed, fine tuned and tested by professional percussionists.
These world-renowned snare drums produce a clear, focused, projecting sound with maximum snare response and articulation throughout the entire dynamic range. They are equipped with Clevelander designed shells, strainer, butt, new tubular-style lugs, the patented snare clamping system and die cast hoops.

PROFESSIONAL MODELS
North American Birch
Handmade construction. Lacquered finish, mahogany stain.


THE CLEVELANDER SNARE SYSTEM
The Clevelander patented snare clamping system allows the simultaneous use of several individually tensionable snare materials, resulting in incredible snare response and clarity throughout the entire dynamic range. Snare systems are interchangeable so your Clevelander can easily be adapted for any performance situation.