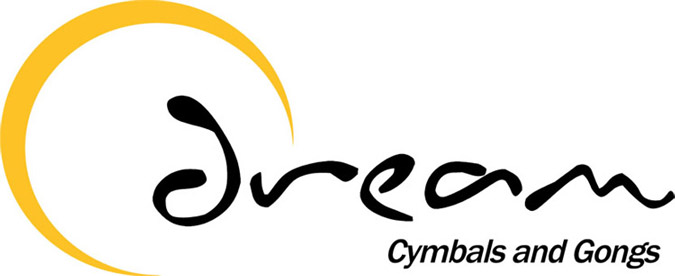 INTRODUCING - DREAM ORCHESTRAL CYMBALS AND GONGS - NOW SHOWCASED WITHIN PROFESSIONAL PERCUSSION PRODUCTS CYMBAL SOUNDROOM
A complete assortment of Dream Cymbals and Gongs is on display in our new Cymbal Soundroom for individual testing, comparison and selection.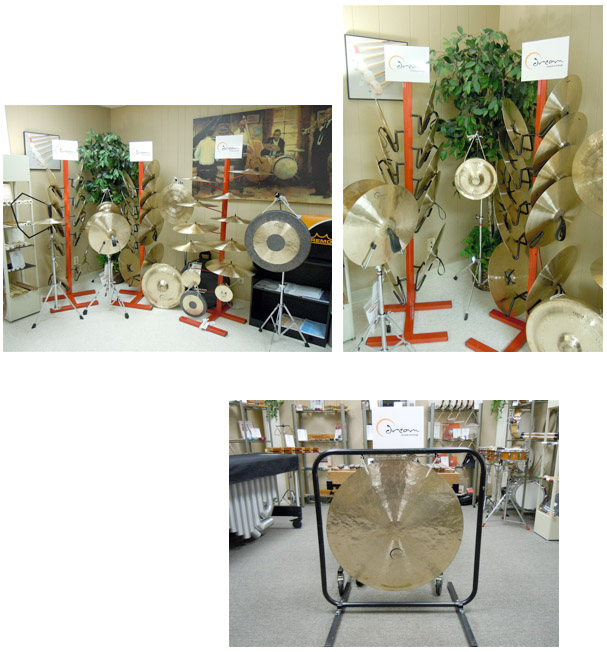 ORCHESTRAL CRASH CYMBALS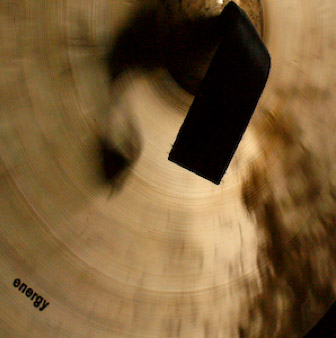 ENERGY Orchestral Cymbals
The orchestral cymbals offer cutting projection fused with the warmth of a completely hand hammered cymbal. The concentration of weight in the center of the cymbal gives the power to reach the back of any concert hall while the thin edges make for comfortable playing in the quietest of passages.

Un-cut bells and micro-lathed surfaces combine with hand hammering, providing a warm, rich harmonic spectrum. The dynamic range is extreme pianissimo to triple forte. Easy to hand and control at all volumes. Hand straps are included.

Sizes: 16, 17, 18, 19, 20, 21 & 22"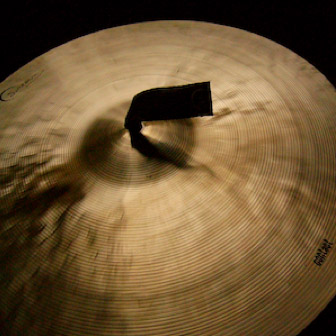 CONTACT Orchestral Cymbals
Through the interaction of crystalline overtones, a shimmering mid range and rich undertones is born the Contact cymbal. Featuring a higher profile and deep groove lathing they speak quickly and open up with power. Brightness volume and response make them suitable for all orchestral applications.

Noticeable traditional lathing patterns provide for brighter higher pitched harmonic spectrum. Exceptionally easy to control at soft dynamics and open-up easily for extremely loud playing.

Sizes: 16, 18, 20, 22"






ORCHESTRAL SUSPENDED CYMBALS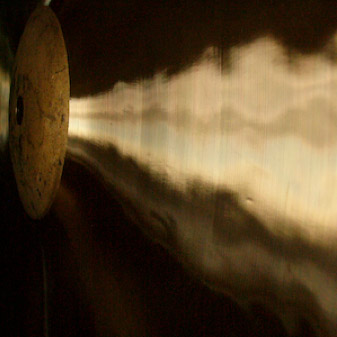 ENERGY Cymbals
The ENERGY series offers a modern sound palette in a hand hammered cymbal. This bright, hard-hitting line meets the needs of the percussionist looking for a loud, bright, and penetrating quality that will cut through the sound of the orchestra while delivering definition and sound color to the audience.
Unique to the ENERGY line, the bell is left un-lathed focusing the weight of the cymbal in and around its center. This results in a cymbal that has a slightly exotic timbre with all the sound qualities orchestral players listen for. ENERGY cymbals are also excellent recording cymbals in the concert hall and the recording studio.
Sizes: 16, 18, 20"
Surface: top hat micro lathed, bottom hat unlathed
Bow: medium taper, gradual bridge
Bell: broad, loud, unlathed
Weight: medium to heavy
Hammering: deep hammered hot and cold
Stick: very clear, cutting projection
Wash: extreme power, broad dynamic range, full bodied.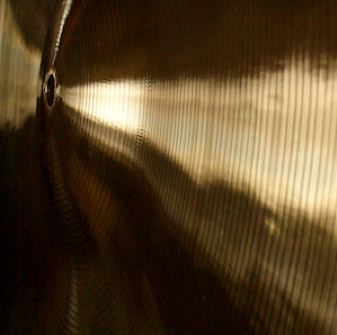 CONTACT Cymbals
The Contact series feature a shaped and slightly deeper profile with a relatively larger bell. The mallet or stick feel is very lively; The pitch is higher but still rich and warm.
These are medium to medium thin cymbals that speak very easily. Faster and louder, they also have depth and complexity in the undertones and a shimmering wash that drives the sound forward and up.
Responsive to all orchestral needs.
Sizes: 16 through 20"
Surface: wide deep lathing by hand
Bow: medium taper
Bell: larger, articulate, clear
Weight: medium to medium thin, very fast but solid response
Hammering: deep hammered hot and cold
Stick: very crisp and fast
Bliss Cymbals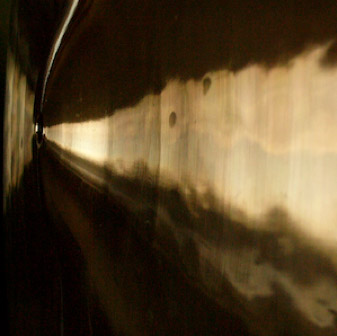 Bliss series are new cymbals made in the ancient tradition. Every one is an individual work of art, painstakingly hand forged, and hand hammered.
They have a warmth that seduces at low volume and thunders with a froth of dark undertones at more extreme volumes. These cymbals come alive, shimmering and wobbling, responding to the many different mallets, beaters and sticks used.
They are exceptionally resilient. The undertones are warm, rich, dark with an edge. Each one is a unique, complex voice that will blend and excite the imagination possibilities of sound.
Sizes: 16" through 20"
Surface: micro lathed by hand
Bow: low gentle bridge
Bell: small, articulate, clear
Weight: thin tapers at edge
Hammering: hand hammered before and after lathing
Stick: woody round attack
Wash: lots of full spectrum wash, quick decay
DREAM GONGS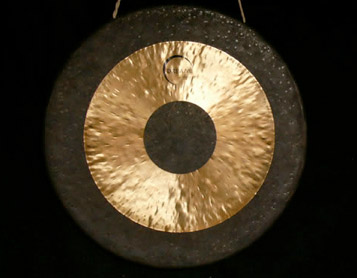 Chau Gongs
The Chau gong or Tam-tam represents the most commonly known "gong". It is found in symphony orchestras the world over. It is not specifically pitched, containing a broad and complex combination of frequencies coupled with tremendous dynamic range and sustain. Available from 6" to 60"+ and each comes with a mallet. Stands sold separately.






Feng Gongs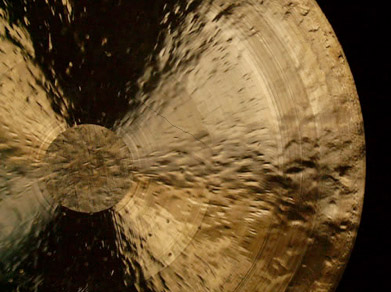 Sometimes referred to as a "wind gong", the Feng has a constantly evolving tone, from a gentle murmur to thunderous explosions. Faster attack, explosive full-frequency sound, and a shorter duration differentiate the Feng gong from the Chau gong. The gong is flat, has no lip and is fully lathed on both sides, contributing to its distinctive look. Available from 6" to 60"+ each comes with a mallet.

Stand sold separately.






M-Bao Gongs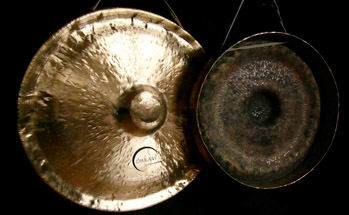 M-Bao stands for machined Bao. This type of gong falls into the category of pitched gongs. This gong is a "nipple" type gong, featuring a unique raised center boss which creates a distinctive, focused pitch center, these gongs ring with one primary tone through their entire sonic duration. Available by the inch from 4" high pitch, to 40" low pitch, in standard black face or machined face. Comes with a mallet.



Exclusive to Dream
Tuned M-Bao gongs: these are lathed Bao gongs carefully aged and specifically tuned to the customers calibration. These nipple gongs have more focused pitch center and longer sustain and dynamic range than the typical Thai nipple gongs. Available from C2 to G5 or as custom designed sets or octaves. Comes with mallet.




For Factory-Direct Ordering Visit our Showroom or Contact us to Schedule an Appointment

Telephone: 440-877-9674
Fax: 440-877-9675
Email: kbdustman@aol.com