Musser M500 Concert Grand Soloist Marimba - IN STOCK!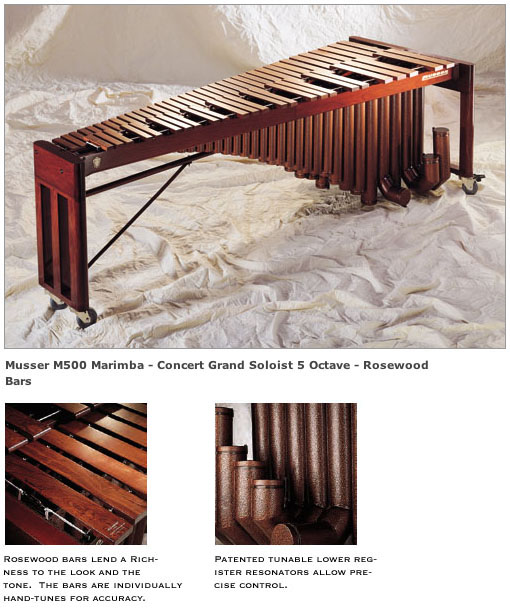 The Concert Grand Soloist is highly regarded for its classic design and masterful, rich tone in the note range of C2-C7. A choice among professional recitalists for its presentation and tone, the 5-octave marimba features beautiful rosewood bars with rounded accidentals. The select wide-graduated rosewood bars provide a rich, full tone. Light staining, hand rubbing and a clear finish on the bars accentuate the beauty of the rosewood.

With a furniture quality hardwood frame and copper vein powder coated resonators, the M500 Concert Grand Soloist marimba is a stunningly handsome instrument. Musser's most technically advanced marimba creation, the M500 Concert Grand Soloist features tunable aluminum alloy resonators secured by bolts and lock-nuts. Fine tuning a marimba allows the player to customize sound within the limitations of acoustics, temperature and humidity. With the Musser patented resonator caps, tuning in the range of C2 to C3 is quick and accurate, even in the lowest register. Resonators feature two position settings for placement.

Masterfully designed for the concert performer, the entire instrument disassembles for transport. The frame is height adjustable from 33.5" to 38", with durable locking casters for smooth transport and durability. Folding resonators and rails and detachable end pieces pack securely.
Musser M450
The Musser M450 Grand Soloist 4.6 - octave marimba performs in the note range of E2-C7. Also beautifully crafted of hand-buffed rosewood bars, the Grand Soloist includes the patented tunable resonators.



Deluxe Studio Grand and Concert Grand Marimbas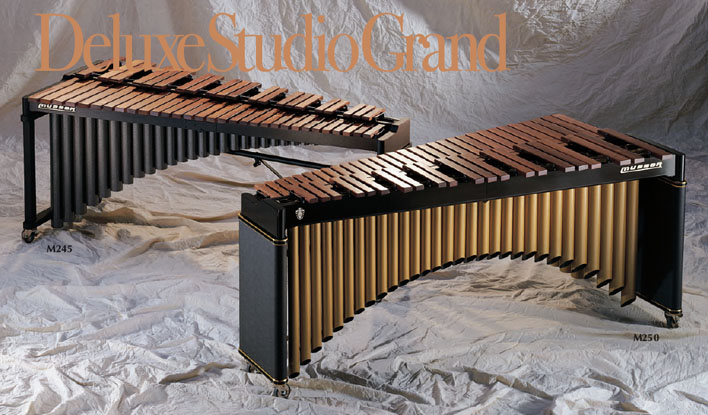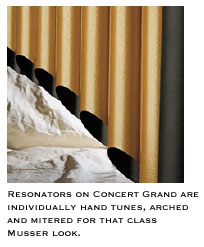 Musser marimbas in the 4.3-octave range include the M245 Deluxe Studio Grand and M250 Concert Grand. The Deluxe Studio Grand is ideal for the marimba student who requires rosewood bars for performance. With a note range of A2 to C7, the marimba is pitched to A-442. The resonators are made of high-grade light aluminum tubing, with silver vein powder coating for scratch-resistant durability.
The frame is made of wood and securely braced for stability. For ease in transportation, the frame and resonators are hinged to fold in half. The Concert Grand is a classic marimba that has become a favorite of symphonies and universities. Rosewood bars are triple-tuned and suspended to assure distortion-free performance. Arched resonators are drawn seamless aluminum and finished with a gold powder coat, for a rich look and sound.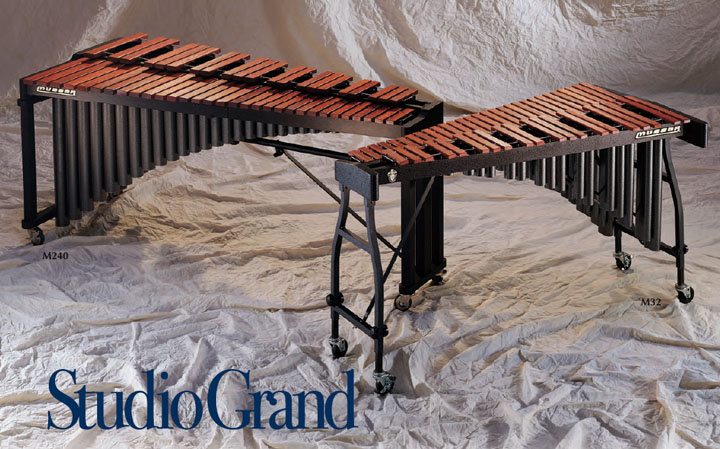 Studio Grand Marimba
Musser incorporates Paduk, another exotic hardwood, in its design of marimbas. The 4.3 octave M240 Studio Grand has Paduk wide graduated bars set in the A2-C7 note range. The marimba includes aluminum resonators with a durable silver vein powder coat for a full rich sound. Studio Grand sets regally on a handsome wood concert frame. The M240 is a great first full size marimba for the serious student.
Studio Marimba
M32 Studio marimba has non-graduated Paduk bars in the C3-C7 note range. The 4-octave marimba has silver finish aluminum resonators, and includes a height adjustable wood frame with folding aluminum legs. The Studio marimba is a student level personal use instrument.



Symphonic Grand and Classic Grand Marimbas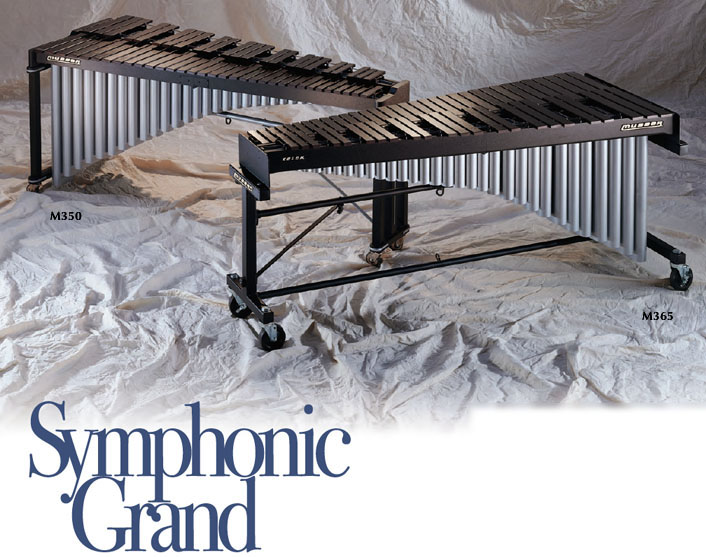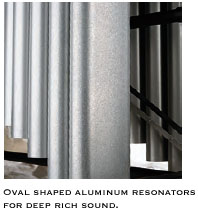 The versatility of the Symphonic Grand and Classic Grand marimbas allows the percussionist to perform in any environment. Wide graduated Kelon® bars, a Musser exclusive, deliver superb tone that is highly resistant to changes in temperature and humidity. The marimbas produce rich, mellow sound, whether supported on the wood concert frame, or the sturdy steel Moto Cart.
Symphonic Grand Models M350 and M365 are meticulously crafted to produce 4.5 octaves in an extended low F2-C7 note range.
With carefully tuned silver powder coated aluminum resonators, the Symphonic Grand also features dual resonator track positioning.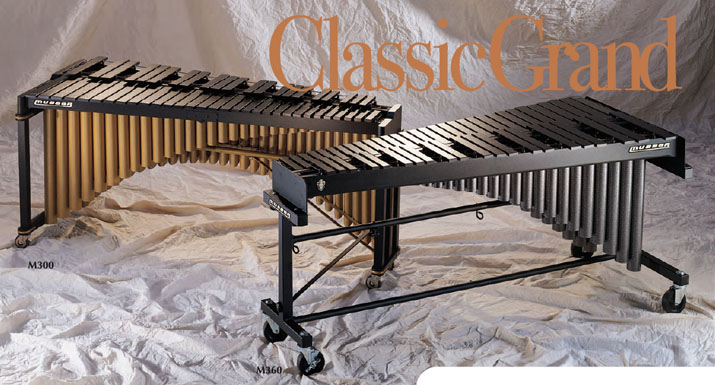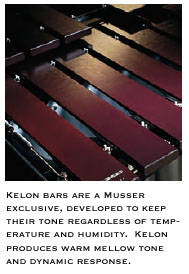 Classic Grand Models M300 and M360, in the 4.3 octave, A2-C7 range, are adaptable to either the field pit or orchestra stage.
The Classic Grand on a concert frame features gold finished, arched and mitered resonators.
The M360 marimba with a Moto Cart frame includes straight, durable silver vein resonators.

Windsor II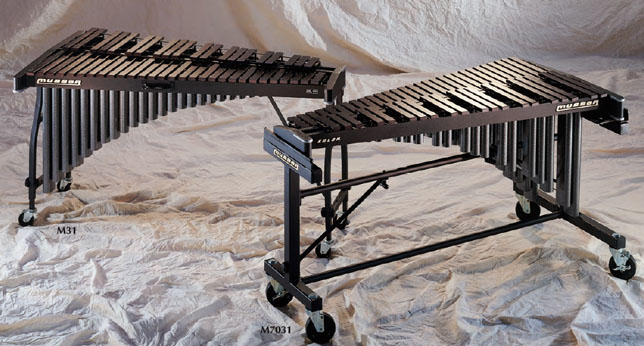 Superb sound and easy portability make the 4-octave Windsor II the ideal marimba for the touring professional or student.
Featuring non-graduated Kelon® bars and cart-style frames, the Windsor II is adaptable to any performing environment.
Oval aluminum resonators with silver vein powder coat finish provide excellent resonance as well as added durability and scratch resistance.

Triette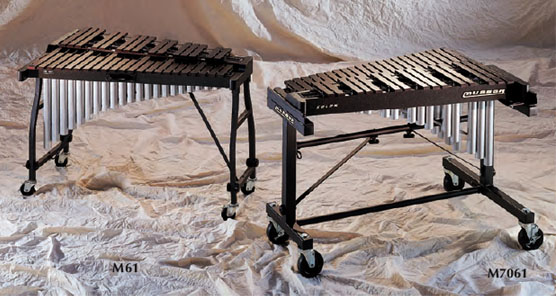 An all-around student marimba, the Musser 3-octave Triette features a sturdy, adjustable frame that easily folds for transport.
Non-graduated Kelon® bars and silver powder coated aluminum resonators provide durable versatility.

Xylophones
Pro-Portable-Rosewood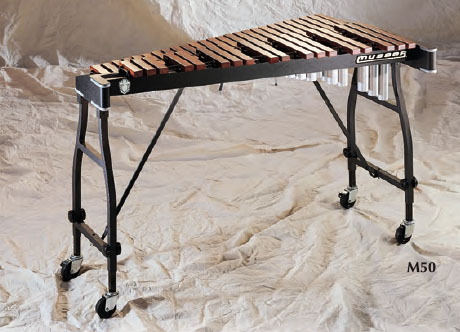 The portable professional xylophone from Musser features triple-tuned rosewood bars. To bring out the natural beauty of the wood, the bars are lightly stained and lacquered.
Detachable resonators are silver powder coated aluminum for durability and scratch resistance. The 3.5-octave rosewood xylophone has a wood frame with folding aluminum legs and five position height adjustments.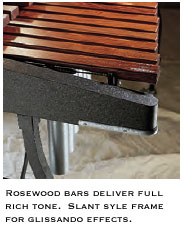 Kelon Pro-Portable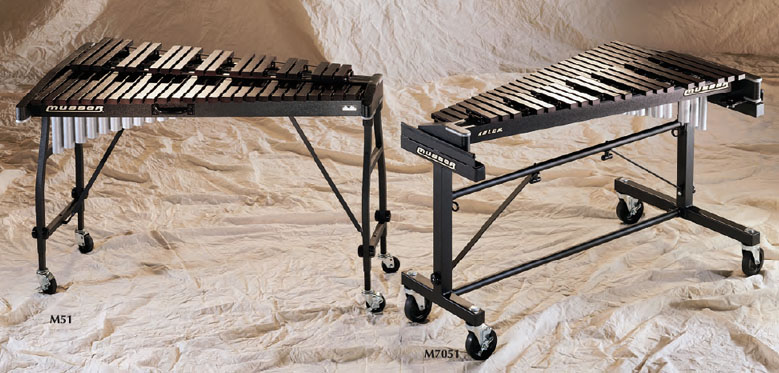 Pro-Portable-Kelon®
The Pro-Portable xylophone features Musser exclusive Kelon® bars which resist changes in temperature and humidity to maintain tonal quality and dynamic response. The 3.5- octave xylophone has silver powder coated seamless aluminum resonators.With excellent portability features, the xylophone adapts to any environment. Detachable resonators and folding aluminum legs on the wood concert frame make it easy to transport.
The Pro-Portable xylophone is also available with the Moto Cart frame or the All-Terrain Cart.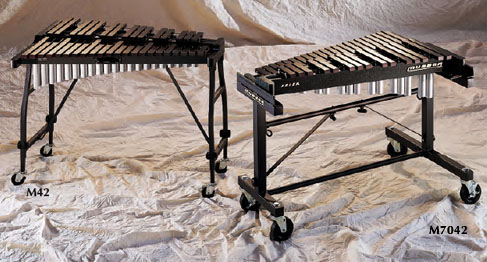 Elite
The Elite xylophone also features the exclusive 3-octave Kelon® bars. Ideal for students, the Elite hand tuned resonators deliver superb tone and resonance.
With folding aluminum legs and lightweight concert frame, the Elite is extremely portable.
The Elite is also available with the Moto Cart frame and the All-Terrain Cart.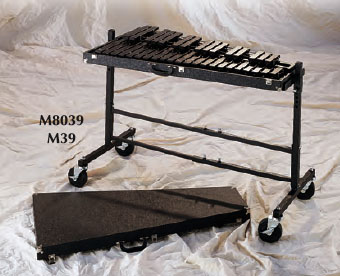 Piccolo
Superb sound and a full three octave keyboard in a sturdy lightweight suit-case size instrument. Kelon bars offer outstanding tone and response and will not change pitch regardless of changes in temperature or humidity.
This extremely portable instrument with completely detachable lid is perfect for orchestra pit percussion sections where space is a premium and session percussionists always on the move. This is instrument is found in many school applications combining sound and portability.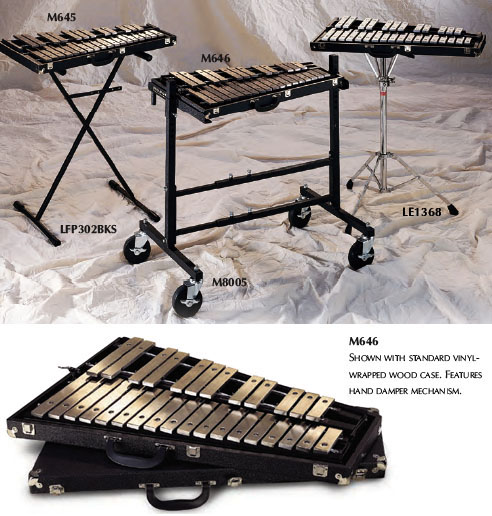 Orchestra Bells - IN STOCK!
Musser's Classic Bells are the finest high-carbon tempered steel, carefully hand tuned with a specially designed bar mounting system to deliver unsurpassed tone, clarity and resonance.

The 2.5-octave bars are nickel plated with a satin finish. An optional hand damper on the M646 allows superb control over intricate passages. Classic Bells have a vinyl covered wood case with sturdy steel hinges, latches and double handles for carrying security.

Optional stands include a folding table, and a compact folding stand. Another option is the small mallet instrument cart with large swivel casters. The cart is height and length adjustable and retrofits small instrument accessories.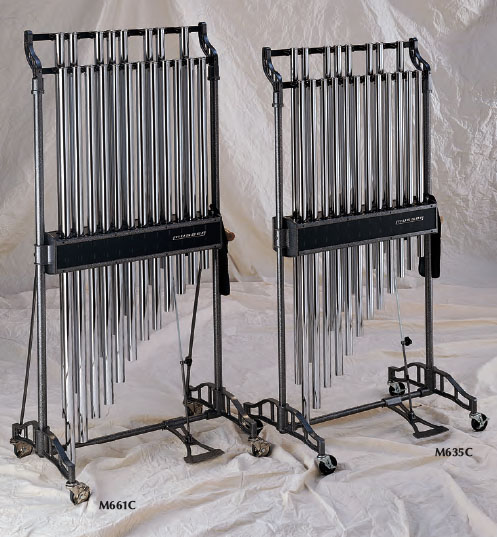 MUSSER Symphonic and
Classic Chimes
IN STOCK! Musser Symphonic Chimes offer outstanding performance and contemporary attractive features. Superbly crafted 1.5-octave chimes are chrome plated or brass polished to deliver outstanding resonance and carrying power.
Each seamless tube is suspended by its own stainless steel cable and has a full 1 1/2 inch outside diameter, extra wall thickness and special hardened cap to produce rich, full tone and exceptional volume.
Exclusive Musser self-equalizing pressure damper with locking sustain gives the artist complete control. Supplied with rawhide chime mallet and detachable mallet holder.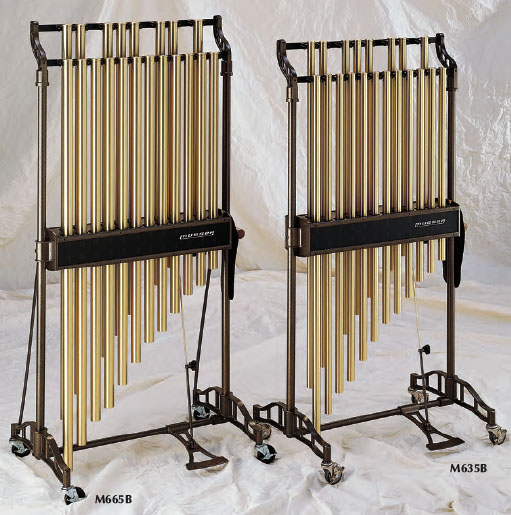 The Classic, with 1 1/4 inch tubes and durable, baked-on frame finish, is ideal for school use.
Tubes are seamless brass and feature hardened caps for greater resonance and volume.
The dependable damper system employs 100% wool felt. Supplied with rawhide mallet and detachable holder.
Classic Chimes are mounted on a gold or silver vein frame with satin finished brass or chrome plated tubes.
Standard concert frames have four locking casters.